This guide will cover how to cancel your subscription in any of the 3 payment types available to Autoview subscribers.
**Important - Once a Legacy account is cancelled, it cannot be re-activated**
PayPal



Method 1:
Click the Autoview Extention icon in your browser followed by "Change settings"
On the left-hand side of your page click "Subscription"
Click the "Cancel" button to cancel your Autoview subscription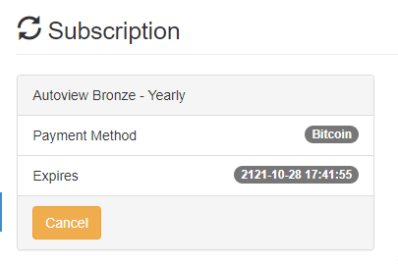 Method 2:

Log in to your PayPal account.
Click Settings and then select at the top of the page.
Click to find your payments listed along the left side.
Select the payment, and then click Cancel

Click on Cancel automatic payment on the confirmation prompt
Bitcoin or Pinkcoin
For cryptocurrency subscriptions, you will receive an automated email 2 weeks prior to your renewal date. In this email, there is a link to cancel your subscription. Please simply click this link if you want to cancel.