Welcome to Autoview.com - Your Automated Trading Partner!
Our system takes care of converting your trade signals into live orders on your preferred exchange. Once set up, you can enjoy life as usual while we handle the hard work. Ready to get started? Follow these simple steps!
Step 1: Create API Keys on Your Exchange
Log into your Crypto.com exchange account.
Click your Profile located at the upper right-hand corner.
Select Settings, then API Keys.
Choose Create a new API key, fill in the description/label, and enter your 2FA code.
An API Key and Secret Key will be generated for you. Keep these safe; you'll need them in the next step.
Remember, all new API Keys are "Can Read" by default. You need to enable Trading for the API Key.
Step 2: Add API Keys to Autoview
Navigate to Create API Keys (or API Keys > Add Keys+).
Click ADD KEYS under the exchange you want to connect.
Provide an API Name and enter the API Key and Secret Key obtained from the exchange.
Click Add API Keys. Your keys will be securely stored within Autoview.
Step 3: Set up a Webhook
Go to Create Webhook (or Webhooks > Create+).
Provide a Webhook Name for the webhook. You'll use this with your alert or signal provider.
Creating a key is optional: Will be required at the beginning of any commands sent to a webhook (e.g.

Pa$$w0rd

b=buy,

K3y

|b=buy).
Click Create Webhook. You'll use this in the next step.
Step 4: Link the Webhook and API Keys
Navigate to Create Link (or Linkage > Create+).
Select the Webhook and the API Keys you want to link together.
Click Link Webhook And API Key to save the configuration.
Step 5: Create and Assign Commands
Visit the Command Builder section.
Answer the questionnaire to build a command for your alert.
Step 6: Configure Your Charting Platform or Webhook Provider
In your charting platform or webhook provider, create an alert with the command of the action you want to take. We'll use TradingView as an example here.
In the Notifications tab, enabling and setting the Webhook URL allows TradingView to send your commands to Autoview.
We recommend testing the alert to confirm it's working correctly. Refer to the example image for guidance.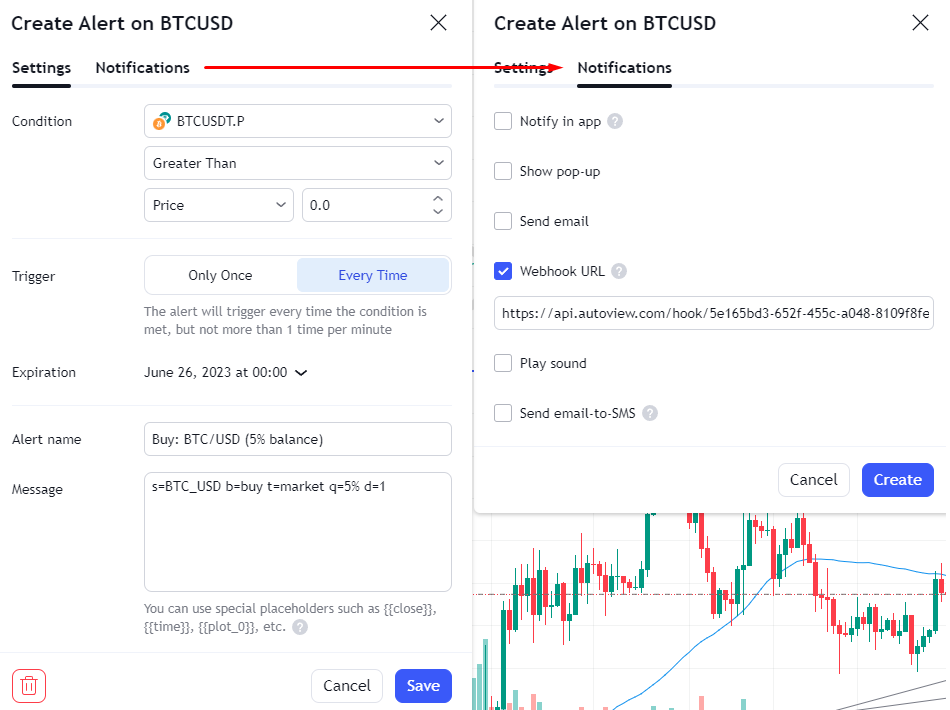 Step 7: Verify Alerts and Commands
Visit the Event Log section.
Verify that the commands associated with the webhook executed as expected.

If in test mode: the log will show order details that would have been sent to the exchange.
If live: the log will show the order details and the exchange's response about the order.
Congrats! You are now ready to let Autoview automate your trading while you enjoy your life. Happy trading!